Environment
MCH Group invests continuously in the optimization of its ecological indicators: in the construction and operation of its buildings and facilities by increasing energy efficiency, employing renewable energies and reducing emissions; in logistics and transport through efficient location-specific concepts; in the production of booth structures and fittings through the selection of materials and the provision of active support for the circular economy. Environmental criteria are applied in the selection of (preferably local) suppliers.
Numerous projects and initiatives are centered on the quality and efficiency of MCH Group's significant trade fair infrastructures. When it comes to energy efficiency and emissions, it is the production locations that account for the most significant share within the group. Expomobilia, which implements projects worldwide, also merits particular attention, having received multiple certifications and awards for its sustainability performance.
- In the case of its substantial own trade fair infrastructures (Messe Basel and Messe Zürich), which it is able to influence directly, MCH Group has been investing in infrastructure, its own photovoltaic systems and its operations for many years. It has won widespread acclaim for the extent of its renewable energy use and emission reductions. In 2022, MCH Group made a start on optimizing the lighting systems in its halls.
- In cooperation with myclimate, data is currently being recorded for the group's own exhibitions, art fairs, event solutions and business units worldwide with the aim of identifying potential for reductions. Accompanying this is the introduction of a tool for recording and analyzing ESG data at events (including employee training).
- Under the SBTi (Science-Based Targets Initiative), MCH Group has committed to defining a reduction pathway consistent with the Paris Agreement and to specifying emission reduction targets at global level.
- Logistics and transport concepts are being drawn up in line with the sustainability strategy (exhibitors, suppliers, visitors).
- Expomobilia has received various awards for sustainable booth construction (pavilions at world expos, etc.). In 2022, it was the first Swiss general contractor to be awarded ISO-20121 certification for sustainable trade fair and event management.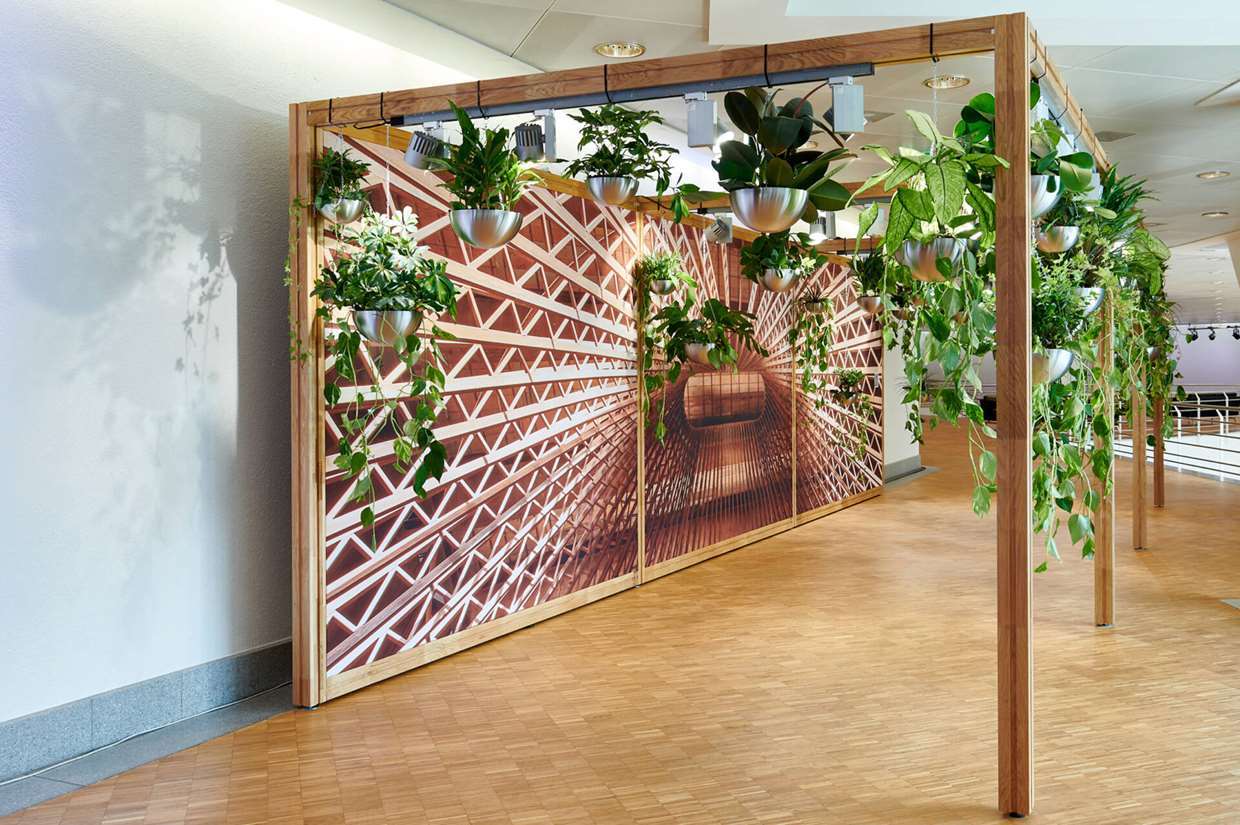 Expomobilia offers a sustainable expo design system in certified oak on an exclusive basis in Switzerland.
- Expomobilia offers a sustainable expo design system in certified oak (as an authorized dealer of EECS.green GmbH) on an exclusive basis in Switzerland. The individual modules can be combined into trade fair and event structures and are 100% reusable. The system constitutes a sustainable alternative to conventional aluminum construction systems. Up to 22,000 kg CO2 is released in the production of one tonne of raw aluminum, while producing one ton of timber releases no more than 360 kg CO2.
- Messe Basel aims to meet the demand for sustainable meetings and events and has developed a comprehensive range of offerings, from Green Meetings through to large-scale events.
- MC2 Europe has the following ISO certifications: DIN EN ISO 50001:2018 (energy management); DIN EN ISO 9001:2015 (quality management); DIN EN ISO 14001:2015 (environmental management), and has been audited to DIN ISO 20121:2013 for sustainable event management.
- MC2 Europe has appointed process owners in all its departments who are now "Sustainable event management officers to DIN ISO 20121:2013". This ensures that expertise is transferred to all areas of work along the length of the value chain, right through to our customers.
In this way, the following aspects can be taken directly into consideration and appropriate offers drawn up where possible: holistic concepts, renewable and/or recyclable materials, reusable components and materials, suitable options for event venues and hotels (renewable energies), optimization of travel activity, equitable supplier terms and contracts, local and regional suppliers, sustainable catering, environmentally and economically sound logistics, packaging waste avoidance, and waste segregation.
- Art Basel wishes to create an environmentally sustainable art world through its GCC commitment.

The Gallery Climate Coalition (GCC) is an international community of art organizations working to reduce the environmental impact of the art sector. The GCC's primary goal is to facilitate the reduction of the sector's Co2e emissions by no less than 50% by 2030 and promote waste-free methods and practices. GCC develops processes to this end and makes them available to its members. It provides leadership in sector-specific environmental issues and works to leverage the collective power of its membership to achieve systemic changes. As a registered charity, the GCC does not operate for profit. Its tools and resources are made available free of charge. The GCC relies on voluntary donations.
Photovoltaic installations
MCH Group produces more than 1,800,000 kWh annually with the photovoltaic installations at its locations in Switzerland.
A photovoltaic system was installed on the roof of Hall 1 in Basel in 1999 already, making it possible to use solar energy. Vegetation was also planted on the roof in conjunction with this. The panels have an area of 1,900 m² and an output of 215,000 kWh per year. A system four times this size was set up on the green roof of the new Messe Basel complex, which was completed in 2013. This photovoltaic system, which was installed in cooperation with an investor, feeds approximately 1,100,000 kWh electricity annually into the grid of the Basel energy utilities company (IWB), which took over the system in 2014. MCH Group also supports the "Wettstein 21" platform, which was responsible for the installation of a further photovoltaic system on the roof of the Congress Center Basel. This was completed at the end of 2014 and delivers around 180,000 kWh electricity each year. The roof space was made available free of charge.
Since 2009, a photovoltaic system with a panel area of 1,200 m² and an annual output of 150,000 kWh has been in operation on the roof of Messe Zürich.
Expomobilia operates two photovoltaic systems at its sites in Effretikon and Fehraltorf with a total surface area of 3,000 m². These generate approximately 435,000 kWh per year.
Messe Basel and Messe Zürich
A total of 87.8% of the overall energy requirements at the Basel and Zurich exhibition sites are met by renewable energies.
Messe Basel
Messe Basel has exhibition space totaling 141,000 m², including 122,000 m² in the two main halls 1 and 2. The Congress Center Basel also belongs to Messe Basel, with 25 rooms and capacities for up to 5000 persons.
The Basel-Stadt Minergie certification agency awarded the new Messe Basel complex the BS-054 Minergie Label, which was developed especially for this building (2013). In addition, the target values of SIA Standard 380/4 are met with regard to lighting and ventilation/air-conditioning. – The new complex satisfies stringent energy standards in respect of both the insulation of the shell and the provision of the necessary heating and cooling energy in a resource-saving manner. All heating, ventilation and refrigeration systems are operated only when required, and the majority of the waste heat generated is used.

Messe Basel was issued with a certificate for 2022 confirming that the site uses 100% renewable electricity in Wind Europa quality (ewz: Certificate No. 1395035).
Messe Basel has a cantonal target agreement (KZV) for major consumers with Canton Basel-Stadt. This is aimed at achieving a measure-based increase in energy efficiency by 2029 (starting in 2019). The goal is an energy efficiency of 118.7% based on specific measures and success monitoring.
Messe Zürich
Messe Zürich has exhibition space totaling 30,000 m². Around 27,000 m² of this is located in Halls 1 to 7 in the main building, while the separate hall 9 accounts for some 3,000 m². The main building additionally has seven smaller conference rooms for 30 to 80 people. Messe Zürich also includes Theater 11 Zürich which seats 1,500. The main exhibition building is noted for its operational functionality and flexible room configuration.
Messe Basel and Messe Zürich – Energy consumption and emissions
87.8% of overall energy consumption at the Basel and Zurich exhibition sites is covered by renewable energies.
The energy consumption in 2021 and 2022 reflects the reduced operations compared with 2018 (prior to Covid) and also the renewed start-up.
At 0.3%, the share of direct emissions is very low (fossil energy sources). The share has been continually reduced over the past few years.
Emissions have been continually reduced over the past few years through the high share of renewable energy sources.
Expomobilia
Expomobilia designs and implements sustainable trade fair and event structures, making an active contribution to the circular economy.
Expomobilia turns spaces into extraordinary experiences. As a general contractor, the company creates trade fair booths, exhibitions, art fairs, event spaces, pavilions, showrooms, experience centers, roadshows, and temporary and semi-permanent structures in all styles and formats both in Switzerland and abroad. It translates concepts and designs into practice in a resource-saving manner, attaching great importance to booth constructions with a long service life that can be reused many times over. The production chain involves testing, developing and implementing sustainable solutions together with the client.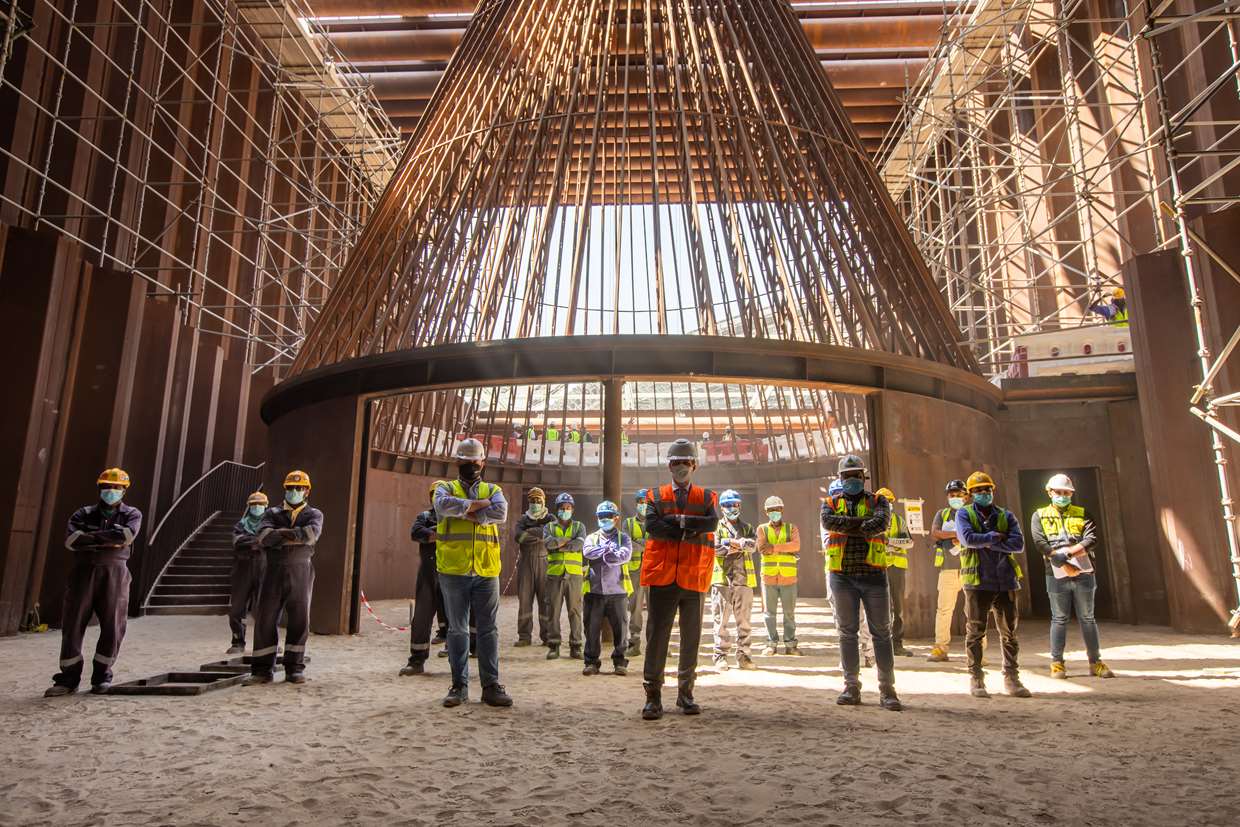 The prizewinning Dutch pavilion at the world expo in Dubai, by Expomobilia
Since 2014, Expomobilia has covered its entire electricity requirements with Swiss green electricity obtained from FAIR POWER, an independent green electricity specialist. The FAIR POWER certificate guarantees that this electricity has been generated ecologically and is fed into the grid for Expomobilia. The CO2 share from hydroelectric power generation is fully offset by the Fair Recycling Foundation. Expomobilia operates two photovoltaic systems at its sites in Effretikon and Fehraltorf with a total surface area of 3,000 m². These generate approximately 435 MWh per year.
In 2018, Expomobilia AG was renamed MCH Live Marketing Solutions AG. The Expomobilia business unit and brand continue to be used within the new company.
Energy-saving measures
Various energy-saving options have been examined for the Messe Basel, Messe Zürich and Expomobilia locations and the ones found to be suitable have been implemented:
Office temperatures reduced

Thermostat settings lowered in halls, foyers and technical rooms

Inlet temperatures turned down outside hours of use

Heating systems renewed (hydraulic balancing), including intelligent thermostat valves, thermal insulation, etc.

Ventilation and associated systems energy-optimized

Lighting systems replaced: all conventional systems are to be converted to LED lighting. At Messe Zürich, these measures will be implemented in exhibition halls 1 to 6 in 2023. Corresponding work is in progress in buildings 1 and 2 at Messe Basel

Permanent lighting substituted by motion detectors (in corridors, storerooms, etc.)

Number of photocopiers and printers optimized

Appliances not in use switched off (no stand-by mode)

Air-conditioning systems, hot water provision, room temperatures optimized (e.g. insulation through blinds, ventilation instead of cooling).

Further operational optimizations, including for the lifts
Logistics and transport
Transport and logistics have to meet complex requirements in order to ensure that trade fairs can adhere to their tight schedules. At certain times, significant quantities of what, in some cases, are highly valuable goods (such as art for art events) need to be delivered without obstructing regional traffic. Logistics and traffic also need to be optimized in terms of their environmental impact and cost.
Logistics and transport are material topics in our sustainability strategy that we are currently working on. These have an impact on exhibitors, suppliers and visitors. We want to conserve resources and reduce the CO2 emissions of vehicles and products (by switching to electric vehicles or promoting the use of public transport, for example). We are currently analyzing and optimizing our logistics and transport concepts in a bid to further reduce our ecological footprint. These measures are intended to positively impact both our group and our customers.
Example of Messe Basel
Delivery traffic to the MCH Group's exhibition and congress site is steered via a checkpoint-based system. In Basel, an online logistics tool has been developed to support this system. All journeys made to transport goods to and from the exhibition site must be registered in advance for a specific time slot. Drivers are required to proceed to a checkpoint where their lorries are directed to the delivery zone of the hall in question for the specified time via a specific route. They then have a set time slot for completing their loading or unloading. To ensure that this process can be optimally steered, all movements on the exhibition site are performed by Messe Basel's logistics partner.
Promotion of public transport
MCH Group promotes the use of public transport to its events by offering a range of special tickets in partnership with SBB RailAway and Deutsche Bahn DB. Combined tickets are also available with admission to events and overnight accommodation (Basel Card, via hotels).
MCH Group offers its employees a "U-Abo Job Ticket". Our employees can purchase this at the reduced youth rate with MCH Group assuming part of the costs. We motivate our employees to switch to public transport thereby relieving the burden on the environment and reducing road traffic.
Waste
Further initiatives for reducing and segregating waste are currently under study. MCH Group has already implemented comprehensive measures at its major trade fair sites on the basis of experience acquired and the needs it has ascertained. These include waste segregation, providing the required number of containers, cooperating with recycling partners and cutting back on waste by reusing exhibition hall carpeting.

In the interests of further optimization, we are analyzing current and potential waste-related impacts over the full length of the value chain, i.e. not only the waste generated by MCH Group activities but also upstream and downstream waste. The focus here is on the exhibitors. The aim is to minimize waste at the procurement stage already and also to reduce waste by dispensing with giveaways. – In future, better use is to be made of recycling options and measures for promoting the circular economy. We are also calling in professional third-party providers and partners for this. The underlying data bases are being revised.