Sustainable thinking and action have shaped MCH Group's more than 100-year history and will contribute to determining the path it adopts in future too.
Introduction
MCH Group, which was founded in Basel (Switzerland) in 1916, is a leading globally-operating live marketing company.

The group's portfolio includes services to meet all the needs of experience marketing. MCH Group provides community platforms worldwide, in physical and digital formats, together with bespoke solutions in all areas of experience marketing, including attractive multi-functional event infrastructures like those in Basel and Zurich.
MCH Group aims to boost the long-term value of our global company group for the benefit of all its stakeholders, shareholders and customers, partners and suppliers, employees, industry networks, and the business locations of Basel and Zurich. The strategy is focused on growth and expansion.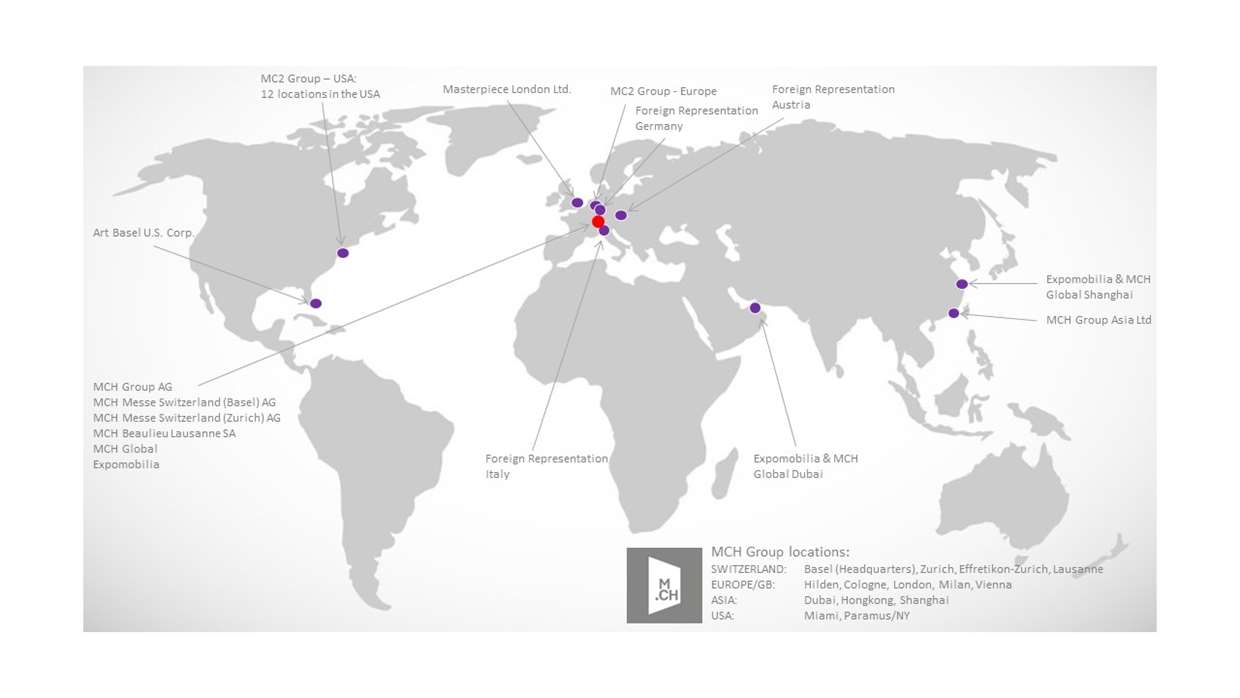 MCH Group locations (GRI 2-1)
Starting situation
The past five years at MCH Group have been marked by significant strategic and organizational challenges. The 2022 Sustainability Report is being published against this background.
Consolidation and a new beginning
MCH Group is currently in a consolidation phase. The corporate strategy and organizational structure are being implemented. With Canton Basel-Stadt and the entry of Lupa Systems, MCH Group has two anchor shareholders, both of whom are pursuing a long-term, sustainable strategy. The group's capital structure, Board of Directors, shareholder base and corporate governance have been strengthened in this way.

Due to the continuing restrictions in 2022, it was not yet possible to achieve a complete comeback but the group has, however, embarked upon a successful future. Flagship events like Art Basel in Basel, Miami Beach and, for the first time, Paris+ par Art Basel proved highly successful. Art Basel Hong Kong was still impacted by Covid restrictions. – MCH Group can now once again concentrate fully on its goals of growth and customer satisfaction.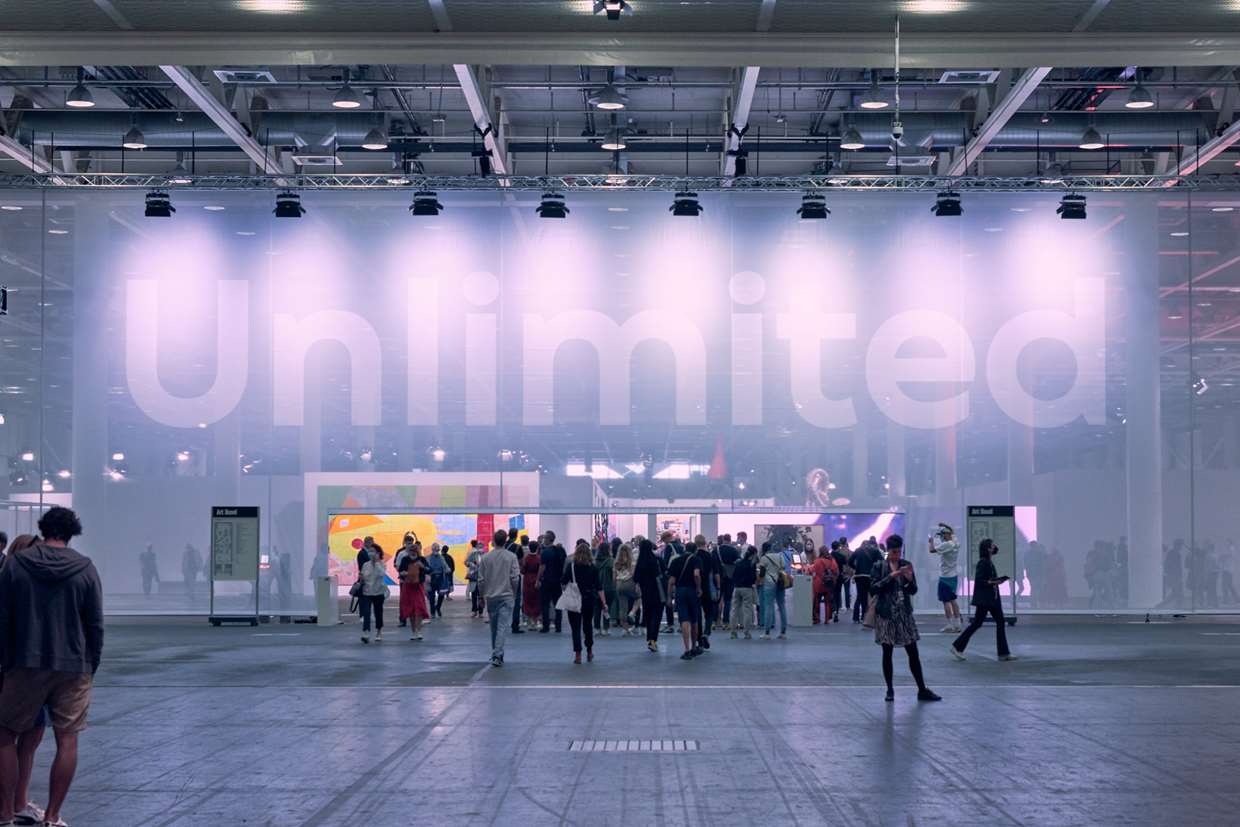 Networking different competencies to achieve unique, customer-oriented solutions
MCH Group, with its value chain, is able to provide a very broad and variable range of services including physical and digital formats for different industries (fairs such as Art Basel) and bespoke offerings in all areas of experience marketing (Expomobilia, MC2, MCH Global). The group is able to create unique, customer-oriented solutions by networking its different competencies.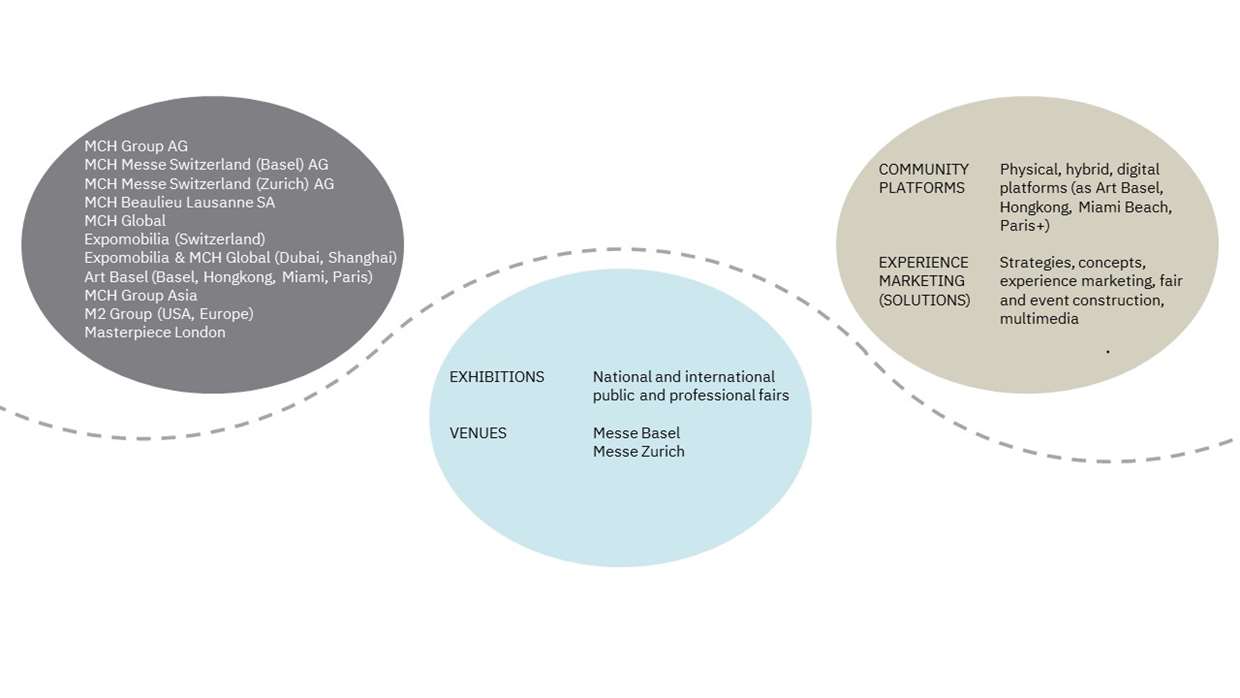 MCH Group: Companies and range of offerings (GRI 2-1, 2-2)
Upstream processes, such as procurement or logistics and supplier selection, and downstream processes like waste management form an integral part of our value creation and are included in the sustainability assessment as material topics. We are moving forward with the further development of our value creation in a continuous process, in dialog with our internal and external stakeholders and giving due consideration to sustainability criteria in all process steps and at all company levels.
The MCH Group portfolio takes in Art Basel, our own exhibitions and guest events (in Basel and Zurich). The Live Marketing Solutions companies operate all over the world and implemented more than 1,800 projects in 2022 (despite the restrictions in force until April 2022):
Messe Basel and Congress Center
Five exhibition halls and a Congress Center with 25 rooms of different sizes – 141,000 m² in all – offer just the right ambiance for staging events of all types in Basel.

Seven trade fairs, 22 conferences, 119 events and 11 guest occasions were held in Basel in 2022.
To Messe Basel
Messe Zürich
Messe Zürich has seven halls and a similar number of meeting rooms, with an exhibition surface totaling 30,000 m². Following Messe Zürich's cooperation with the Hallenstadion and Zurich Tourism in the Arena Convention Expo Zurich (ACE), XL-sized events can now be hosted in Zurich-Oerlikon. The premises not only accommodate large-scale trade fairs but can also be used for events spanning several days and smaller seminars.

In 2022, Messe Zürich welcomed 1,371 exhibitors and 132,853 visitors. The meeting rooms were booked a total of 129 times.
To Messe Zürich
Art Basel
Art Basel has been bringing the art world together since 1970. As an international – and the world's most prestigious – art fair, Art Basel stages events in Basel, Miami Beach, Hong Kong and now also in Paris. The shows present leading galleries and artists from five continents together with their works.

In the 2022 reporting year, all the Art Basel events were staged successfully – Art Basel in Basel, Miami Beach, Paris+ par Art Basel (new) and Hong Kong (subject to Covid measures).
To Art Basel
MC2
MC2 is a multiple award-winning, globally operating brand-experience solutions agency. Strategic insight, inspiring design, and seamless execution ensure the agency's clients thrive in a constantly changing world. MC2 is passionate about pushing boundaries to create new opportunities in the interests of its clients. Creativity, the latest technologies and a global presence are available to clients for their further development. MC2 is represented at 12 locations in the USA.

In 2022, MC2 received 7 awards and completed 1,768 jobs, including 648 exhibition booths.
To MC2
MC2 Europe
With its head office in Hilden near Düsseldorf, MC2 Europe is an independent subsidiary of MCH Group. Having built up almost 40 years' competence as a full-service partner, this live marketing company designs and implements distinctive brand presentations at trade fairs and events for its national and international clients. It offers creative concepts, a wealth of consulting expertise and high-quality implementation – always with the aim of making a brand experienceable.
To MC2 Europe
MCH Global
MCH Global is a leading experience marketing agency with offices in Zurich, Dubai and Amsterdam. MCH Global sees itself as a team of passionate storytellers. The agency creates and implements impressive experiences, coupled with innovative, digital and virtual solutions and first-class content.

In 2022, MCH Global implemented 40 projects (including for Audi, BMW, Die Mobiliar, Google and Porsche).
To MCH Global
Expomobilia
In the role of general contractor, Expomobilia constructs exhibition booths, exhibitions, art shows, events, pavilions, showrooms, experience centers, roadshows, and temporary and semi-permanent structures in all styles and formats in Switzerland and worldwide. The highly qualified team implements concepts and designs both precisely and efficiently. Expomobilia finds solutions for even the most unusual ideas, which can be implemented in a high-quality yet resource-saving manner within the specified time and budget. Expomobilia has locations in Switzerland (Effretikon) and Asia.

In 2021/22, Expomobilia received 12 awards for projects that included pavilions (sustainability) at the world expo in Dubai.
To Expomobilia