Sustainability
Entrepreneurial thinking and actions have shaped our group's more than 100-year history and will also determine the path we follow into a sustainable future.

In 2022, MCH Group undertook significant efforts to develop and advance its sustainability strategy. We wish to play a leading role in the exhibition and event industry. Our strategic aim is to enhance the added value we offer by incorporating ESG factors in our value creation (ESG: Environment, Society, Governance).
Sustainability is becoming the standard and giving rise to new, adapted business models. This means MCH Group has a solid foundation to build on. At the same time, we are working to seize emerging opportunities and meet the new requirements of our markets and stakeholders. Innovations and new or modified business models will play an important role. Our sustainability strategy shall be understood as a guiding principle that determines the actions in the business units.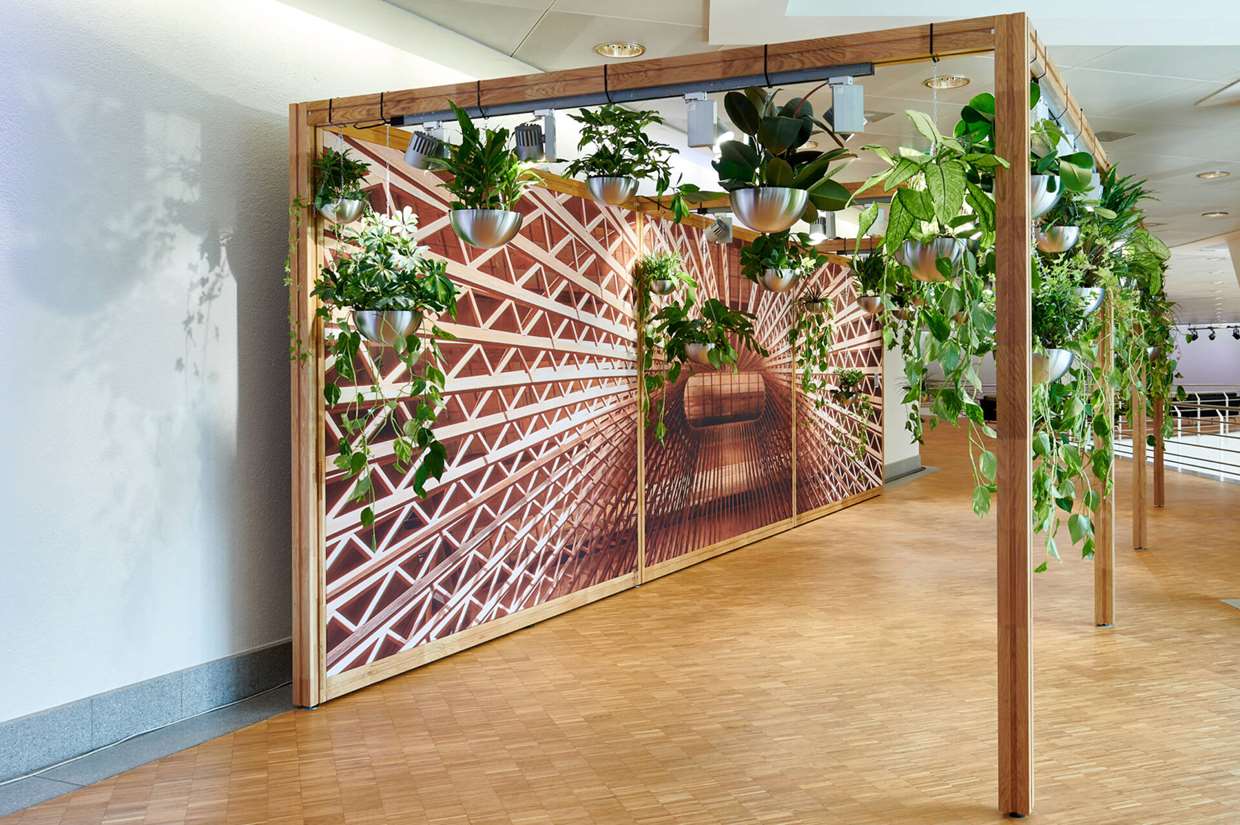 Expomobilia is the only company in Switzerland offering a sustainable modular booth system based on certified oak wood.
Material topics
To acquire a greater understanding of the significance of sustainability in experience marketing, we conducted a survey in 2022 of more than 200 external and internal stakeholders (customers, partners, employees, shareholders, etc.). Respondents had to rate 30 pre-selected factors according to their actual and potential social, economic and environmental impacts. Based on the survey results, we identified and prioritized the material topics for our sustainability and reporting. The examples below are topics we are addressing or projects in progress.
Sustainable procurement (Development and application of social and ecological criteria when selecting and working with suppliers)

Logistics and transport (Concepts for transport to and from our sites, switching to electric vehicles, integral waste concept)

Diversity, equal opportunities, inclusion (Implementation, living out the values; advancement of the topic in conjunction with HR)

Initial and further training (Implementation of a training tool for the development of all business units)

Waste reduction and segregation (Focus on exhibitors: optimizing procurement (minimizing waste), optimizing recycling and waste disposal, signage, individual measures: carpeting, giveaways, etc.)

Energy management (Using/switching to renewable energy sources, including our own photovoltaic systems, optimizing hall lighting systems through sector-based and dimmable lighting, for example)

New, sustainable business models (Development of sustainable projects and initiatives)
Focus on Environment
Numerous projects and initiatives are centered on the quality and efficiency of MCH Group's significant trade fair infrastructures:
- Under the SBTi (Science-Based Targets Initiative), MCH Group has committed to defining a reduction pathway consistent with the Paris Agreement and to specifying emission reduction targets at global level.
- In close cooperation with myclimate, data is currently being recorded for the group's own exhibitions and art events worldwide. Accompanying this is the introduction of a tool for recording and analyzing ESG data at events (including employee training).
- Logistics and transport concepts are being drawn up in line with the sustainability strategy (exhibitors, suppliers, visitors).
- Expomobilia has received various awards for sustainable booth construction (pavilions at world expos, Schroders etc.) and MC2 Europe has been ISO-certified for its energy and quality management.
Focus on Society
Both in-house and externally, sustainability has prompted a new understanding of long-term economic success and responsible corporate action. Sustainability constitutes a challenge across the group as a whole, affecting the entire global team. It will influence corporate culture and business relationships. The projects will have an impact in both directions.
- Workshops planned as part of the Cultural Journey will uphold our corporate values of respectful cooperation and highlight key examples for cultural change.
- The 2022/2023 Management Development Program launched in 2022 aims to provide management employees with a practical basis for leadership commensurate with MCH Group's strategic alignment and cultural reorientation. The implementation of the new corporate values, presented for the first time at the end of March 2022, forms a key part of the training.
- As co-founders of 'Arcual' we support the first blockchain ecosystem built by the art community for the art community giving due consideration to the artist when works of art are traded.
- In renting out our spaces for guest exhibitions and congresses, we offer sustainable solutions in terms of transport, hall infrastructure, green electricity, catering, and cooperation with local partners.
- Our commitment and quality in sustainability issues is borne out by certificates. These include the ISO 20121 certification awarded to Expomobilia for sustainable events.
- The 2022 Sustainability Report will be published in accordance with the GRI Standard.
Focus on Economics and Ecology
- Platforms with key economic and ecological benefits (trade fairs, exhibitions, events), as they replace many individual activities and journeys.
- Live platforms which generate major economic impacts which benefit a large number of sectors.
- Protection of interests in the group's locations in the Basel and Zurich regions through the participation of the public sector in the Group and its representation on the Board of Directors.
Sustainability anchored in the organizational structure
With the appointment of the Head of Group Strategy & Sustainability, who is also on the Group Management Team, and the formation of a sustainability team, this strategic topic has been anchored in the organizational structure since 2022. The Board of Directors and Executive Board are the highest decision-making bodies.
Separate Sustainability Report
Our business activities and corporate structure are highly sustainable in economic, environmental and social terms.
Being transparent about the relevant sustainability topics and our sustainability performance is a key aspect of MCH Group's annual reporting. The 2022 Sustainability Report is being prepared in accordance with the latest Global Reporting Initiative (GRI) standard and will be published as a separate report in May 2023.
Environmental sustainability
At all the Swiss locations – Messe Basel, Messe Zürich and Expomobilia – 100 % of electricity consumed comes from renewable sources. More than 88 % of the overall energy requirements at the Basel and Zurich exhibition sites are met by renewable energies. Photovoltaic systems on the roofs of Messe Basel and Messe Zürich as well as at the Expomobilia location in Effretikon produce solar electricity for around 400 single-family homes with four-person households. Hall 1 South in Messe Basel has been awarded the BS-054 Minergie label.
Photovoltaic system on the roof of Messe Basel
Messe Basel
Messe Basel covers its electricity needs from 100 % renewable energy generated from European wind farms (certificate). The electricity is purchased from the Elektrizitätswerk Zurich (ewz).
12.3 % of the electricity consumed comes from its own photovoltaic system (1,133,247 kWh).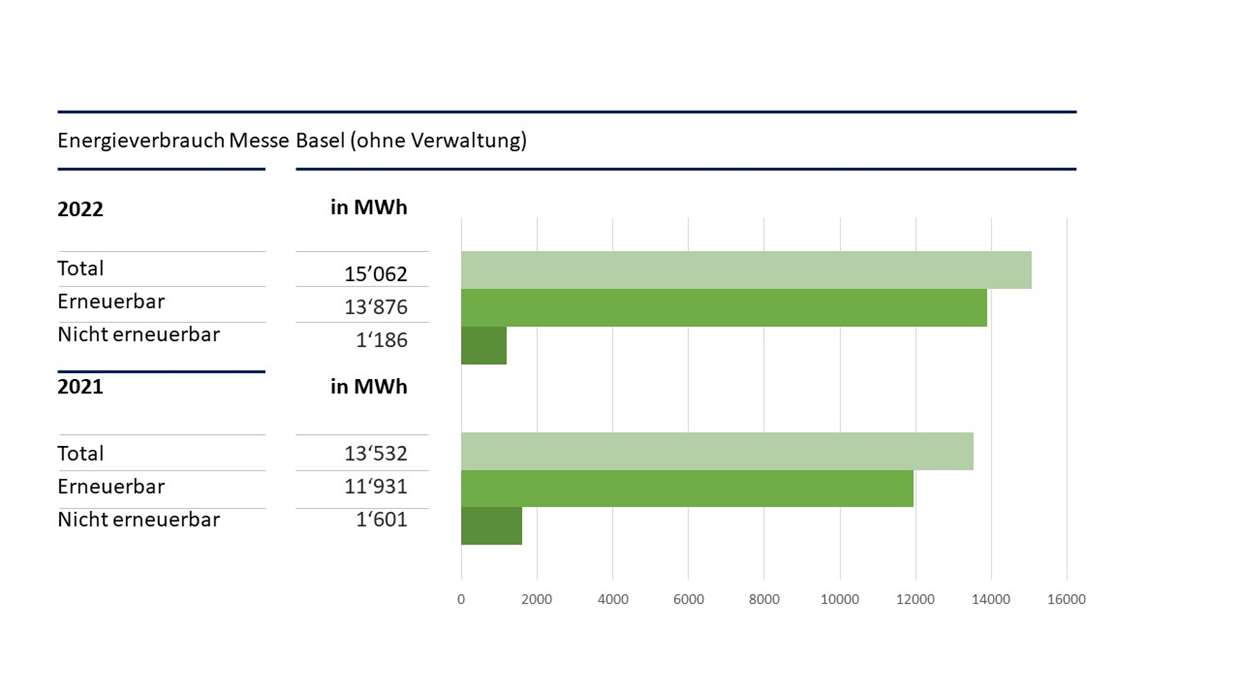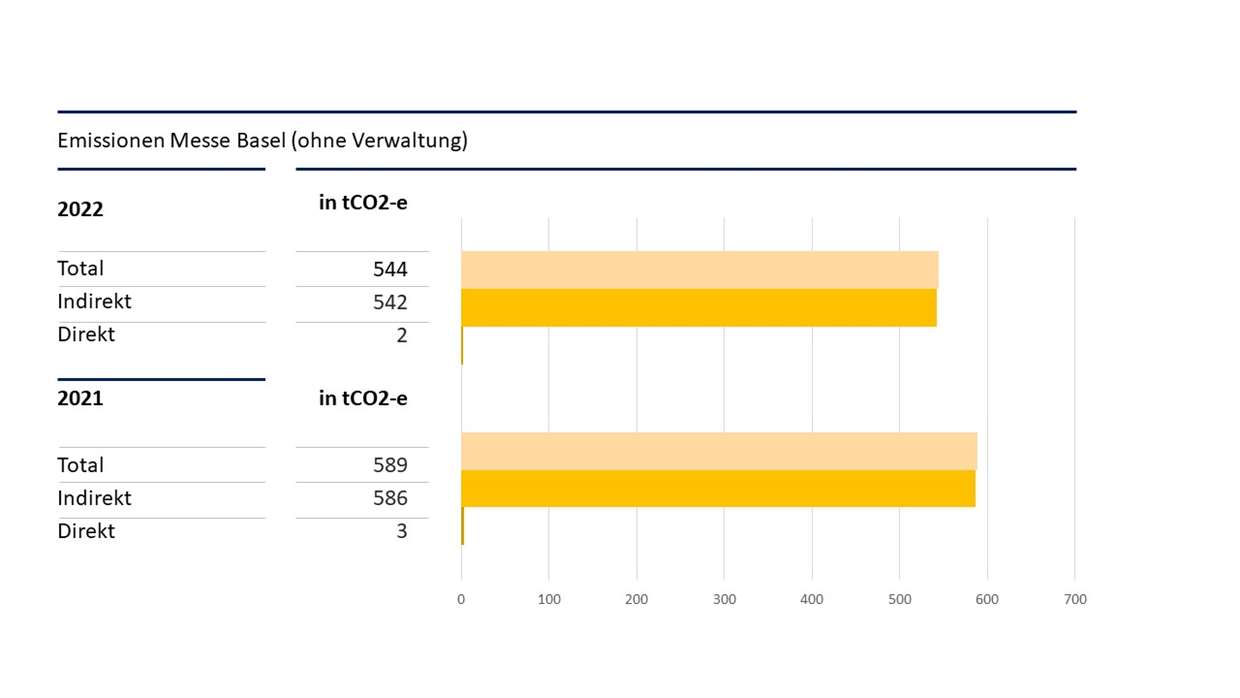 Messe Zurich covers its electricity needs from 100 % renewable energy generated from European wind farms. The electricity is purchased from the Elektrizitätswerk Zurich (ewz)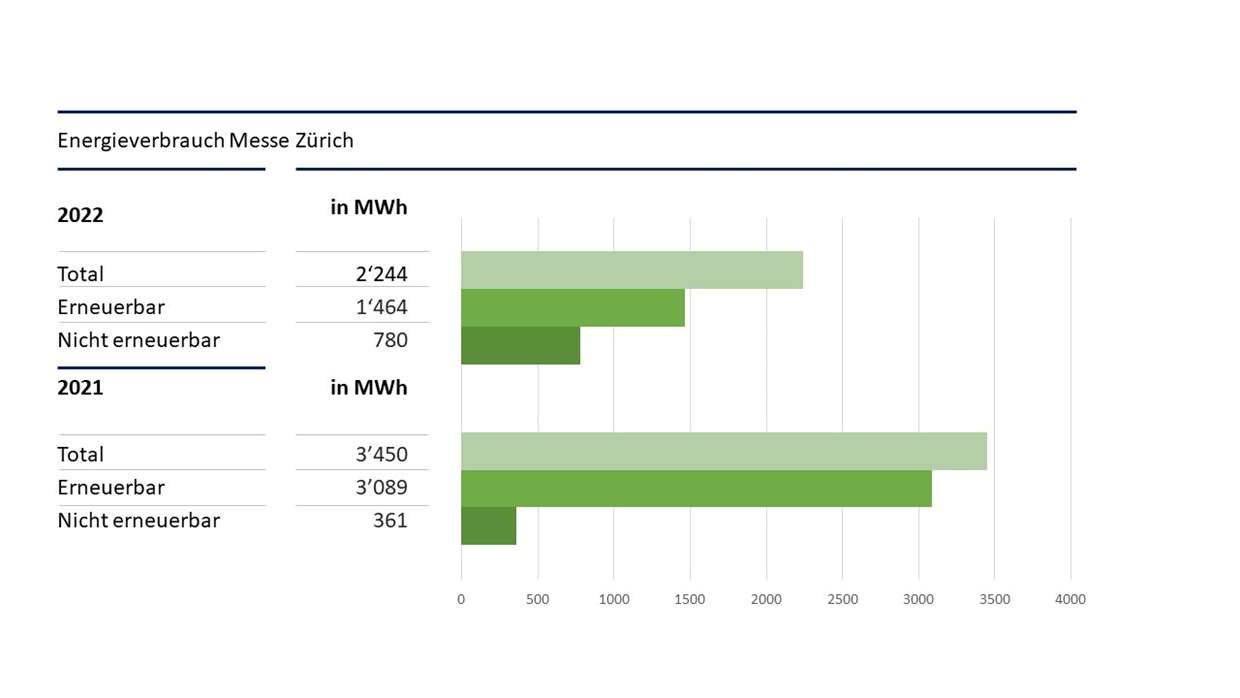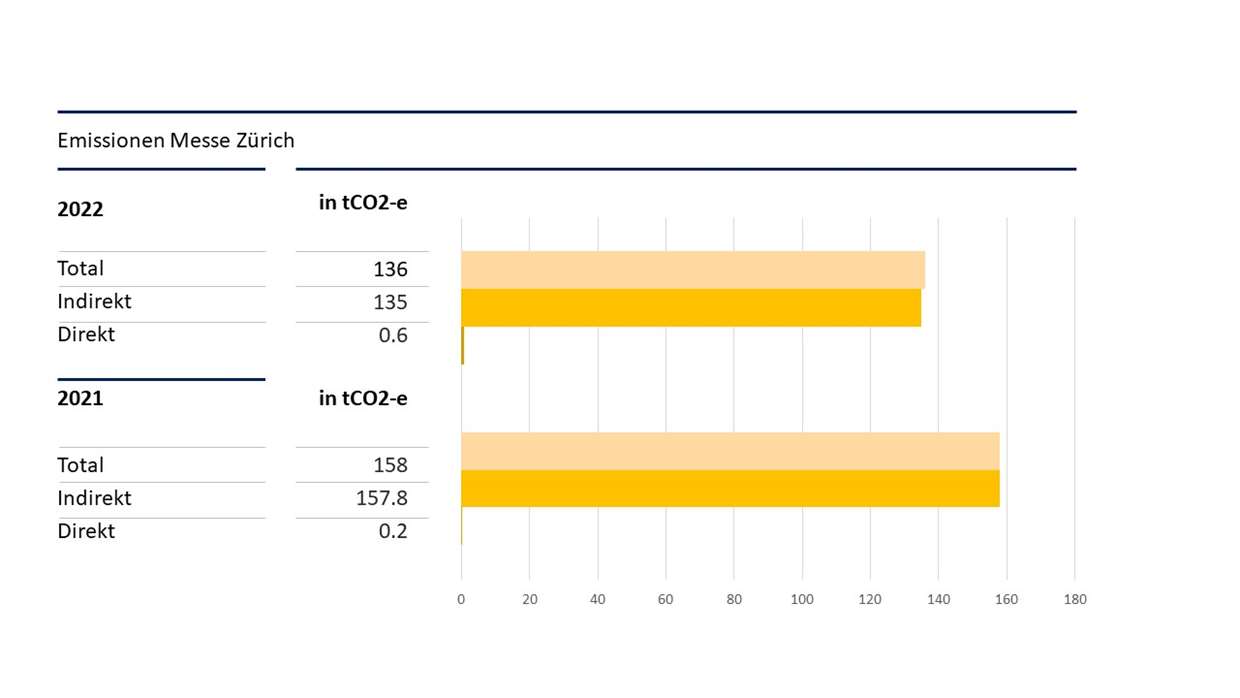 Expomobilia
Expomobilia covers its entire electricity requirements with 100 % Swiss green electricity obtained from FAIR POWER, an independent green electricity specialist