Business Units
Art Basel
Art Basel Hong Kong
Art Basel Hong Kong once again staged a successful hybrid edition featuring 130 galleries, a significant increase from 104 in 2021 despite ongoing travel restrictions. 75 exhibitors participated via a satellite booth – a novel concept introduced to support international galleries unable to travel into the city. The 2022 edition featured strong sales across all sectors and market segments, both to collectors present in the halls and those connecting with galleries digitally.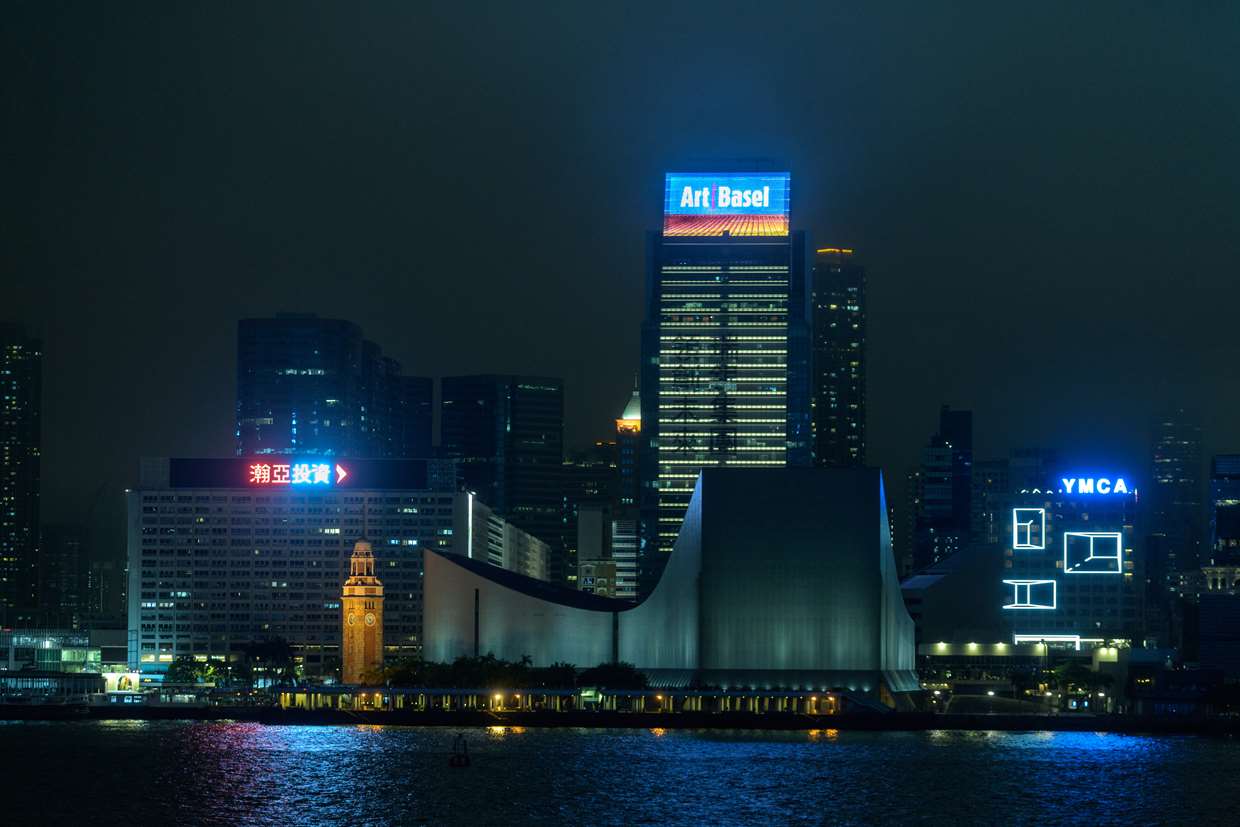 Art Basel Hong Kong, Harbour View
The 2023 edition of Art Basel Hong Kong took place March 23 – 25, a few days prior to publication of this report. The city has lifted all remaining travel restrictions, allowing the fair to welcome international exhibitors, collectors and visitors once again.
Art Basel
The 2022 edition of Art Basel in Basel returned to its June schedule for the first time since the pandemic started in 2020, once again affirming its position as the world's pre-eminent fair for Modern and contemporary art. The show welcomed 289 leading international galleries from 40 countries and territories, including 19 first-time participants, and attracted an overall attendance of 70,000 throughout its VIP and public days. Leading private collectors from across Europe, the Americas, the Middle East, and Africa attended this year, as well as curators and representatives from over 300 museums and institutions.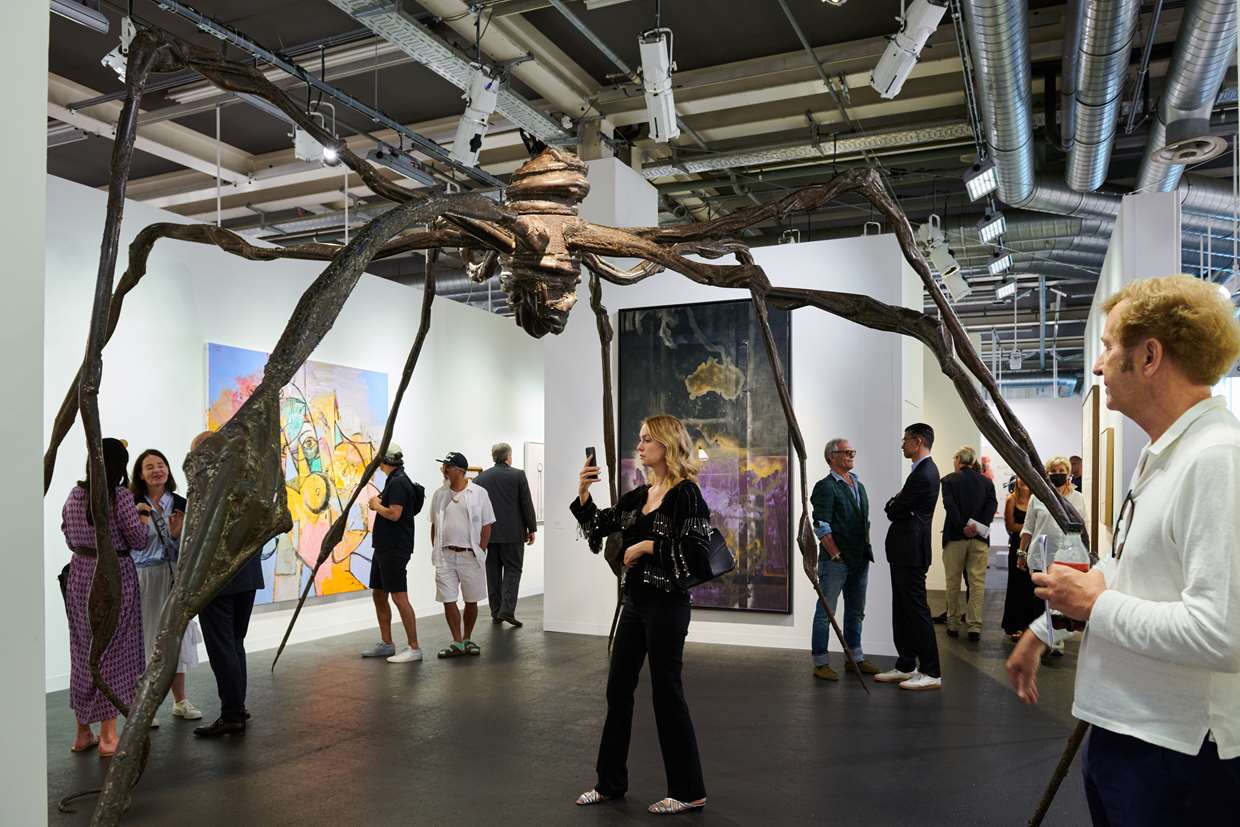 Louise Bourgeois' Spider (1996), Hauser & Wirth
In support of Ukraine, Art Basel collaborated with the City of Basel, leading cultural institutions in the city, Liste Art Fair Basel, and the PinchukArtCentre on a public art project featuring Ukrainian artist Boris Mikhailov's latest photographic series. Art Basel also supported the performance of Russian punk collective Pussy Riot and gave a donation of CHF 110,000 split evenly across three humanitarian aid organizations.
Paris+ par Art Basel
Last year also saw the highly successful debut of Paris+ par Art Basel, the new flagship fair for contemporary and Modern art in the French capital. Following a public competition launched by the Réunion des musées nationaux – Grand Palais in December 2021, Art Basel was awarded the mandate to stage a new fair of global stature in Paris's iconic Grand Palais.
The inaugural edition of Paris+ par Art Basel brought together 156 leading galleries from 30 countries and territories – including 61 exhibitors with spaces in France – in a new premier event that further amplifies Paris's international standing as a cultural capital. A strong line-up of galleries from France was joined by exhibitors from across Europe, Africa, Asia, North and South America, and the Middle East for a global showcase of the highest quality. The fair extended beyond the Grand Palais Éphémère through its publicly accessible, city-wide Sites sector and active, week-long cultural program presented in collaboration with Paris's leading institutions.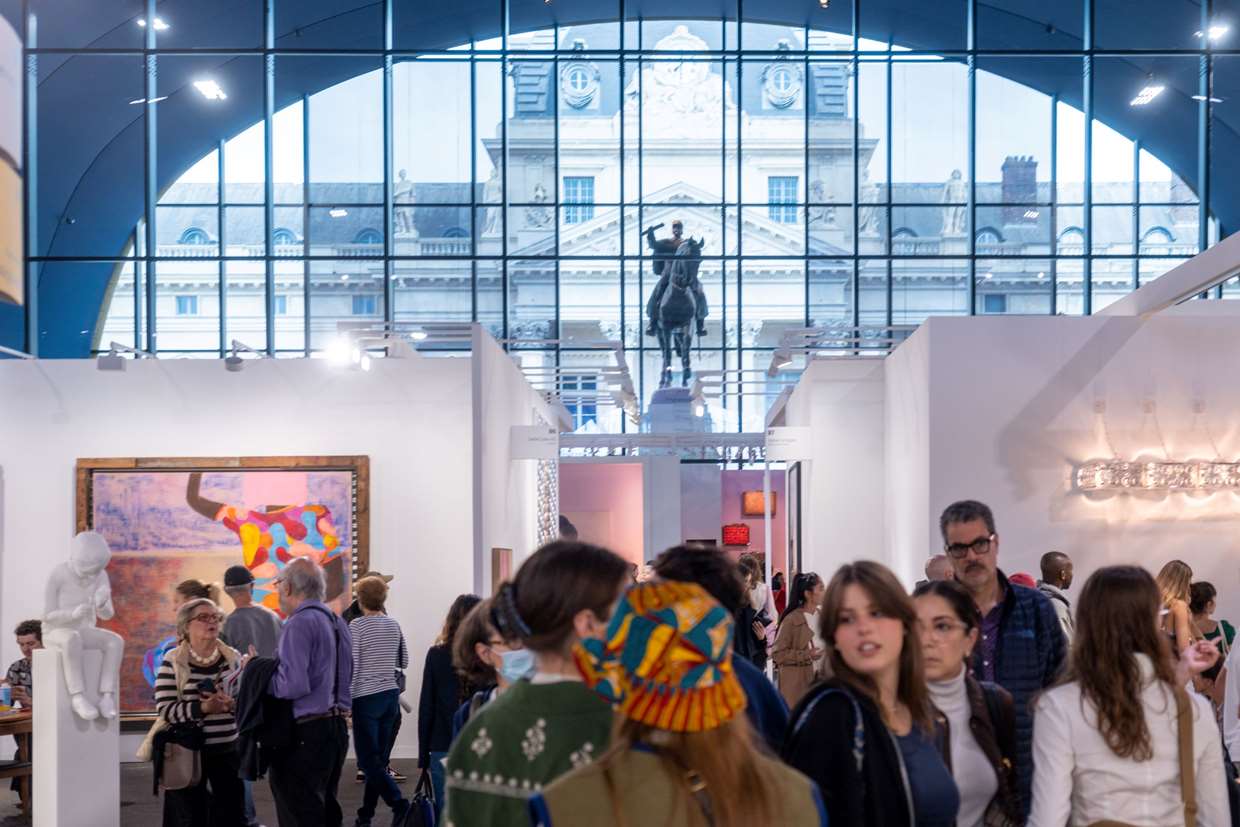 Paris+ par Art Basel in the Grand Palais Ephémère
The first edition was marked by buoyant sales and strong attendance from leading private collectors from France and across Europe, the Americas, the Middle East, Asia and Africa, as well as museum directors, curators, and high-level patrons from approximately 140 cultural organizations. The fair attracted an overall attendance of 40,000 throughout its VIP and public days.
Paris+ par Art Basel also welcomed the President of France, Emmanuel Macron, and French Minister of Culture, Rima Abdul Malak. First Lady Brigitte Macron was also in attendance on the fair's first public day. During his visit, President Macron congratulated Art Basel on having reinvented a true international contemporary art fair in Paris.
From 2024, Paris+ par Art Basel is to be held in the Grand Palais, which will have been renovated by then and can host an even larger event than the Grand Palais Ephémère.
Art Basel Miami Beach
At the end of the year, Art Basel celebrated its landmark 20th-anniversary edition in Miami Beach, signalling two decades of growth and impact by Art Basel as a cultural cornerstone in South Florida, across the Americas, and beyond. The 2022 edition – Art Basel's largest to date in Miami Beach – brought together 282 premier galleries from 38 countries and territories, including 25 galleries participating in the fair for the first time, as well as multiple international exhibitors returning to the show after a brief hiatus.
John Baldessari's Penguin (2018), Gagosian
Reinforcing Art Basel's position as the premier global fair in the Americas, the event saw an overall attendance of 76,000 throughout its VIP and public days, attracting major collectors from 88 countries and high-level patrons from over 150 cultural organizations.
The Art Basel and UBS Art Market Report
The art market underwent a strong recovery with the return to live events and ongoing growth of online sales, according to the sixth edition of The Art Basel and UBS Global Art Market Report published in March 2022. Following its biggest fall in sales in 10 years in 2020, the global art market recovered strongly in 2021, with aggregate sales of art and antiques by dealers and auction houses reaching an estimated $65.1 billion, up 29 % from 2020, with values also surpassing pre-pandemic levels in 2019. The US market retained its leading position, shifting up slightly to 43 % of worldwide sales by value. The Chinese art market was the second largest art market with 20 %, while the UK slipped back to third place at 17 %.
As the fair calendar resumed in 2021, even with a reduced number of fairs and limited capacity at some, art fair sales advanced to 29 % (including OVRs), up 7 % in share year-on-year. Looking ahead, the majority of dealers surveyed (65 %) predicted their art fair sales would increase over the next 12 months. The next edition of the report will be published in April 2023.