Governance
Anchoring sustainability in our organizational structure, engaging with our stakeholders, and our corporate values are all of fundamental importance when it comes to achieving our sustainability goals.
Governance structure
With the appointment of Sarah Borrey as Chief Strategy and Sustainability Officer (CSSO) and the creation of a sustainability team, this strategic topic has been anchored in the organizational structure at Group Management Team level since 2022. The Board of Directors and the Executive Board are the topmost decision-making bodies.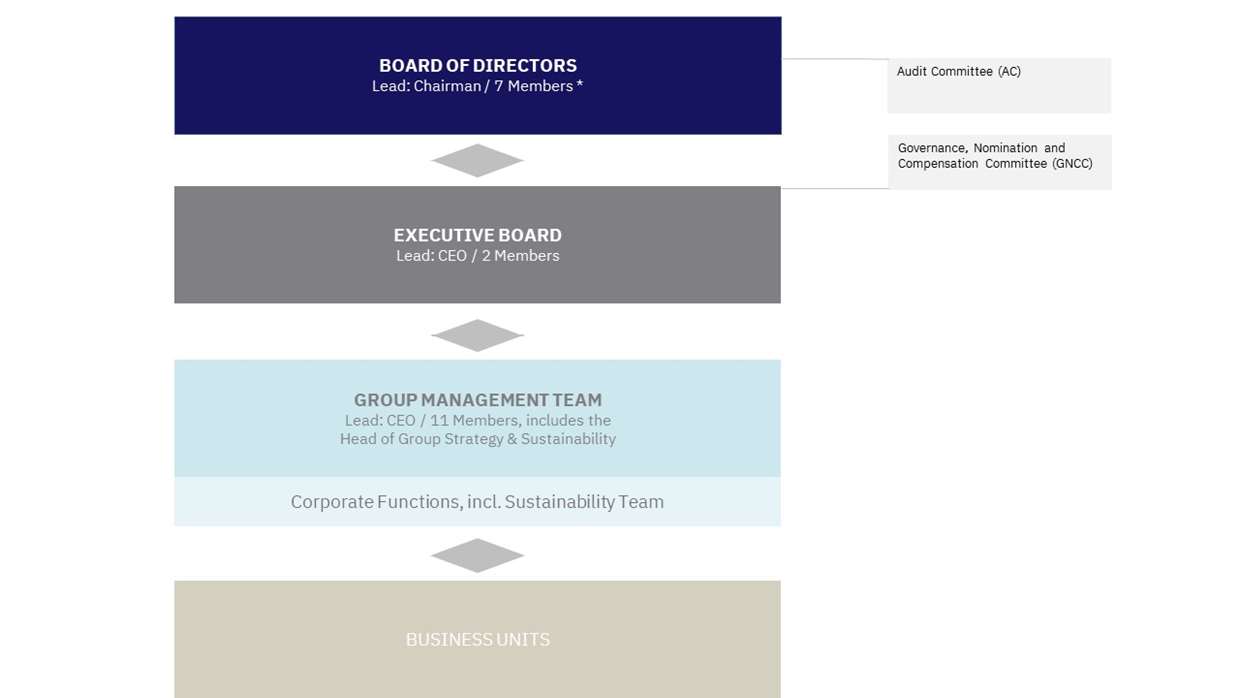 *In 2022 the Board of Directors had 9 members.
Under the terms of its Articles of Association, the holding company MCH Group Ltd., which is listed on the SIX Swiss Exchange, is a joint stock company with the participation of public sector entities as per Art. 762 of the Swiss Code of Obligations. (GRI 2-1) More on this
Engaging with stakeholders
MCH Group engages with its stakeholders in a partner-like and responsible manner. We are further developing our value creation, with due consideration to sustainability criteria, in all the different process steps and at all corporate levels. This is a continuous process that we are taking forward in dialog with our internal and external stakeholders.
We promote active communication with the aim of familiarizing ourselves with the interests and requirements of our stakeholders, anticipating trends, and identifying potential for improvement. At the same time, we wish to contribute to transparency through dialog – namely, by reporting on our sustainability targets and performance.
The decisive criteria we apply in prioritizing our material topics for sustainability are the significance of the economic, ecological and social impacts of the topics, both inside and outside the company, and their influence on the assessments and decisions made by the stakeholders.
External and internal stakeholders (selection) and the corresponding communication channels:
CUSTOMERS
Organizers, exhibitors, Live Marketing Solutions clients, visitors

Topics: Products and services, value chain, corporate strategy, brand protection, sustainability offerings, specific topics or solutions

Communication channels: Personal contact, website, events
SUPPLIERS
Construction trade, energy, logistics, security, materials, marketing & communication, equipment, engineering

Topics: Products, services, requirements/criteria, indirect economic impact, due diligence, governance

Communication channels: Direct contact (in person, by e-mail), fulfilment and/or improvement of sustainability criteria
EMPLOYEES
Management, employees, freelancers, student trainees

Topics: Employment, training and education, corporate values, Code of Conduct

Communication channels: Direct person-to-person contact with supervisor or HR
SHAREHOLDERS
Public entities and private shareholders

Topics: Strategy, economic performance, corporate governance

Communication channels: Meetings, direct contact (in person, by phone, by e-mail), Business Report
The values of MCH Group
Our corporate values form the basis of our corporate culture. This contributes to the success of MCH Group, promotes the commitment and loyalty of our employees and makes us attractive to new markets, customers and employees.
We work as ONE team: We network, share our knowledge, and support one another.

We lead by example: We walk the talk.

Our mutual respect connects us: We unite – both in successes and failures.

Challenging ourselves and our opinions is our forte: We try new things, are curious, and learn from our mistakes.

We measure our success by our customers' success: We put ourselves in our customers' shoes and want them to succeed.

Our differences are our common ground: We see diversity as opportunity.
The values are being reviewed and revised in 2023 together with the Game Changers.
Code of Conduct
MCH Group has developed guidelines on the responsible and ethically correct behavior of all its employees which are anchored in the "Code of Conduct". This is valid for all MCH Group companies and locations worldwide.
Whistleblower – Speak up
The Code of Conduct includes an independent point of contact for reporting concerns or violations. Reports will be investigated efficiently and promptly by MCH Group.
Compliance
No enquiries, reports or complaints were received during the reporting period. There were also no cases of human rights violations, bribery, discrimination or other violations of personal rights. No lawsuits or fines resulted for anticompetitive practices relating to products and services or for non-compliance with environmental legislation or regulations.
Ethics and integrity
Human rights
Bribery and corruption
Anticompetitive behavior
Environmental legislation/ regulations
No cases
No cases
No cases
No cases
No cases
In addition, there were no complaints or penalties for violations of laws, regulations or rules of conduct relating to:
the impact of products and services on the safety and health of persons

the sale of banned or disputed products and services

advertising, sales promotion or sponsorship activities

violations of the private sphere of customers or the loss of customer data
An anti-corruption agreement has been part of the General Terms of Employment of MCH Group since 1992 and this is signed by all employees as part of their contract of employment. The Code of Conduct contains guidelines for legally correct, ethical and social behavior.
As of 2023: Reporting obligation on non-financial matters
The new provisions of the Swiss Code of Obligations (Art. 964a-c and 964j-l CO) and the associated implementing ordinance (Ordinance on Due Diligence and Transparency in relation to Minerals and Metals from Conflict-Affected Areas and Child Labor [VSoTr]) came into force on January 1, 2022. This means that companies must apply the new regulations for the first time in the 2023 financial year, with the first corresponding reports being prepared in 2024.
The report for 2023 is to provide an account of environmental topics – in particular the CO2 goals – together with social issues, employees, human rights and the fight against corruption at home and abroad. It is also to contain the information necessary to acquire an understanding of the business performance, the business result, the state of the company and the impact of its activity on these matters. The report must be approved by the Board of Directors and the General Meeting and be published.
MCH Group has instigated preparatory measures and will be reporting accordingly on the fulfillment of its environmental, social and entrepreneurial responsibility.
Brand protection
The MCH Group's brands constitute a significant enterprise value. Brand protection provides legal security and is a clear indication that the intellectual property rights of the corresponding brand belong to MCH Group and are also protected by the group. At present, some 250 word and picture brands are registered for MCH Group at the Swiss Federal Institute of Intellectual Property (IGE) in Bern. The Group Legal Department checks the IGE report on the registered brands each week. In the event of MCH Group brands being violated, the protection afforded by these brands is enforced by legal means.
Anti-corruption
In addition to the anti-corruption agreement for MCH Group employees, we have taken measures to protect against the risk of passive corruption. These are provisions that relate to the admission of exhibiting companies. They are based on clear-cut criteria set out in the Exhibition Regulations.
ICT infrastructure and security
Top priority is accorded to IT security and the continuous development of our IT infrastructure. MCH Group has made significant investments. The highest possible level of cyber security is guaranteed through the continuous safeguarding of systems, networks and programs against digital attacks.
We currently make use of cloud products. A significant part of the infrastructure is, however, operated on-premise. We currently operate three data centers in the Basel, Zurich and Biel regions. We ensure that our data center operations are as sustainable as possible. We have dismantled our own data centers and are renting from a professional provider.
Risk-management
The MCH Group's risk management covers strategic, financial, operational and also regulatory risks. In the reporting year, the different business risks were identified in group workshops and individual interviews and assessed with regard to their potential level of impact and the probability of their occurrence.
(More on this: Annual Report, p. 131 f).
UN Sustainable Development Goals (UN SDGs)
MCH Group aims to make its contribution to the UN SDGs through its sustainability performance. We are actively supporting six goals with our measures: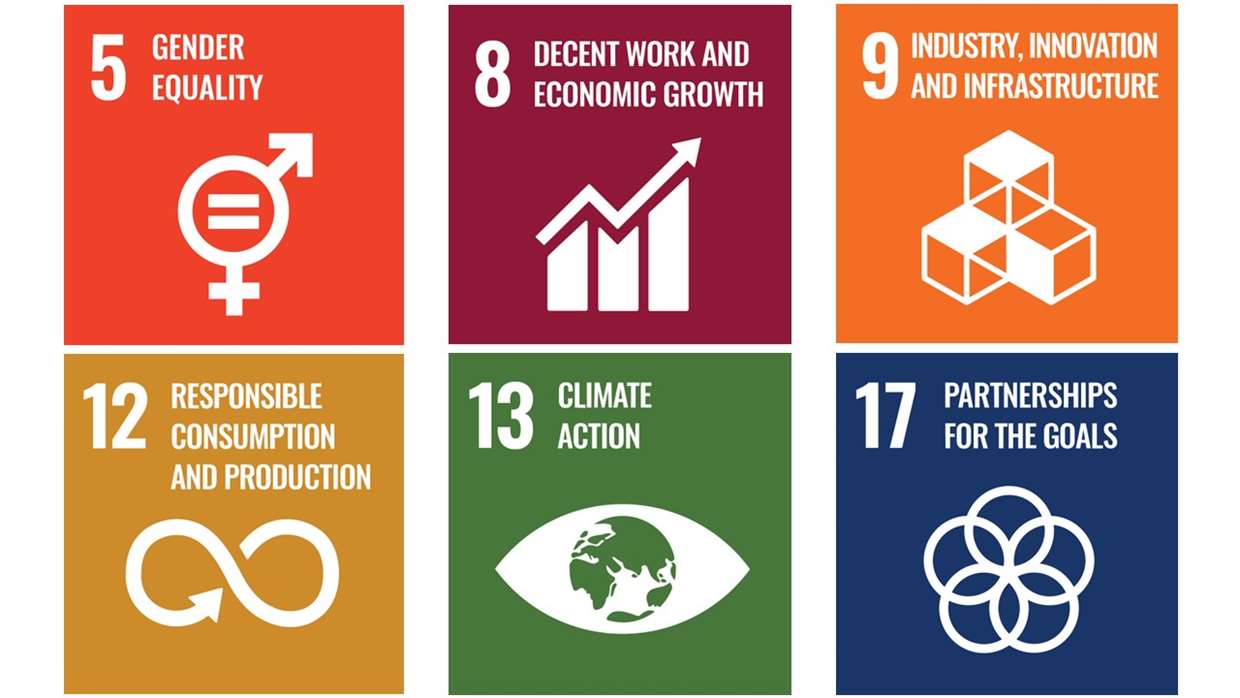 Promoting equality of opportunity for women and men
DECENT WORK AND ECONOMIC GROWTH (8)
Sustainable growth

Decent employment

Supplier chain

Governance
INDUSTRY, INNOVATION AND INFRASTRUCTURE (9)
Development of new business models and solutions

Service life and reusability of products (e.g. booth construction)

Sustainable optimization of (own) infrastructures
RESPONSIBLE CONSUMPTION AND PRODUCTION (12)
Circular economy

Sustainable procurement

Supplier selection (criteria)

Reducing the impact of products and consumption through innovative solutions

Sustainable materials, technologies, processes
Reducing emissions

Energy efficiency

Operational optimizations

Renewable energy

Waste management

Logistics and transport
PARTNERSHIPS FOR THE GOALS (17)
Memberships

Partnerships

Sustainability standards

Certificates

Awards
Labels, certificates and awards for group companies
Expomobilia
ISO 20121 certification for sustainable exhibition and event management (as the first general contractor in Switzerland)

Expomobilia won 12 awards in 2021/22

World expo Dubai: Swiss pavilion

World expo Dubai: Dutch pavilion, for sustainable construction
MC2 Europe
DIN EN ISO 9001:2015 (quality management)

DIN EN ISO 14001:2015 (environmental management)

DIN EN ISO 50001:2018 (energy management)

Audited to DIN ISO 20121:2013 (sustainable event management)

EXHIBITOR's Best of CES: John Deere (18th place in top-20 ranking)

EXHIBITOR's Best of CES: Samsung Electronics/Cheil Worldwide (3rd place in top 20)

EXHIBITOR's Best of CES: SK Telecommunications, Ltd./Cheil Worldwide (1st place in top 20)

Event Marketer's 2022 FAB 50 list highlighting the best manufacturers for the event and trade fair industry

The 2022 "Find It – Top 40" list drawn up by EXHIBITOR Magazine honors the best manufacturers in the industry

Chief Marketer's 2022 Pro Awards, GOLD WINNERS in "Best Use of Disruptive Marketing" with the Dream Ahead New York City IPO campaign for Lucid Motors

Chief Marketer's 2022 CM200 List, which honors the 200 best brand loyalty and experience agencies in the USA.
Venues
In 2022, the venues were awarded classification Level II "engaged" in Swiss Tourism's Swisstainable sustainability program,
Memberships
- Member of "Stop Piracy", the Swiss anti-counterfeiting and piracy platform set up by the Federal Institute of Intellectual Property in 2005
- Member of Sustainable Switzerland
- As a Board member of the EXPO EVENT Swiss LiveCom Association (industry association), Roman Imgrüth, CEO MCH Exhibitions & Events at MCH Group Ltd. is responsible for the sustainability dossier
IMPRESSUM
May 31, 2023

MCH Group Ltd.
4005 Basel
Schweiz

T +41 58 200 20 20
info@mch-group.com
www.mch-group.com
The 2022 Reports of MCH Group are available in German and English. The German version is legally binding. (GRI 2-1, GRI 2-3)
Contact: Sarah.Borrey@mch-group.com