Sustainability
Corporate success calls for a sustainable economic, ecological and social performance. Sustainable thinking and action have shaped MCH Group's more than 100-year history and will contribute to determining the path it adopts in future too. MCH endeavors to promote sustainable behavior in all areas and at all levels and to constantly improve its economic, ecological and social sustainability indicators.
MCH Group's business activity and company structure have a high economic, ecological and social sustainability value. The group's business activity contributes to the business success of many different companies, combining significant economic and environmental benefits. Marketing platforms replace a large number of individual activities and business trips. Exhibitions and events generate major economic impacts from which numerous industries benefit. The public sector's participation in the holding company serves to safeguard the location interests of the Basel and Zurich regions.
Linking economic, environmental and social effects
MCH Group's corporate strategy and the further development of the products and services it offers are geared to securing the company's long-term success. The group invests continually in the ecological optimization of its buildings and systems as well as in the organization and staging of events. It supports its employees in conducting themselves in a legally and ethically correct and responsible manner.
MCH Group has initiated the development of a holistic sustainability concept for the entire company group. In 2022, the group's ecological footprint will first be determined in cooperation with myclimate. This will make it possible to identify hotspots where the burden on the environment can be reduced through Science Based Targets (SBT). Following this, a sustainability strategy will be defined and implemented with SchweryCade.
LMS Switzerland (Expomobilia) is currently drawing up a concept for certification to the ISO 20121 standard ("Event sustainability management systems"), which is to be implemented in the current year. MC2 Europe had the company certified to DIN EN IDO 14001:2015 for sustainable event management for the first time in 2021.
Economics
MCH Group's value chain divides up into three areas which are mutually conducive but can also function independently of each other. It sets up community platforms in different ecosystems. It offers holistic solutions worldwide in the entire experience marketing field – from strategy and creation right through to implementation. And it operates its own infrastructure in Basel and Zurich, supervising both physical events of its own and numerous third-party events (third-party exhibitions, congresses and other events) at these locations.
Salon des Métiers et de la Formation Lausanne
In 2019, MCH Group launched a far-reaching transformation process aimed at aligning itself to future demands from a strategic and operational angle and also from a structural and organizational point of view. Despite the Covid-19 pandemic, the group has been able to create a strong basis for its further transformation and the start of a successful future in the 2020 and 2021 financial years.
Securing the company's long-term success for the benefit of all stakeholder groups
A number of studies show that exhibition companies produce indirect returns that are eight to ten times greater than their own turnover. Only 20 to 25 % of the expenditure incurred by an exhibiting company when it takes part in an exhibition goes to the exhibition organizers. Some 75 to 80 % of its expenditure goes to different suppliers and service providers, triggering further downstream impacts.
Further effects exist that cannot be expressed in figures – in particular, the positive influence of successful marketing platforms for the industries and companies concerned. At the locations at which live events are staged, these events frequently have a "lighthouse effect" for tourism through their reach and appeal, which are transmitted to the city or country in question.
MCH Group's shareholder structure is made up of the public sector (Canton of Basel-Stadt and the Canton and City of Zurich), Lupa Systems and private shareholders, with a stake of approximately one third each. The corresponding composition of the Board of Directors safeguards the private-sector and the company's international orientation while at the same time upholding the interests of the locations and their local regions. Private shareholder Lupa Systems has agreed to a long-term involvement. It fully supports the corporate strategy and will play an active role in shaping its implementation.
Ecology
The reporting on ecological sustainability is centered primarily on MCH's own two exhibition sites in Basel and Zurich, which are of major relevance for the environment as "production locations". A further point of focus is the exhibition and event structures made by LMS (Expomobilia).
A total of 83.7 % of the overall energy requirements of the Basel and Zurich exhibition sites is met by renewable energies. All the electricity consumed comes from renewable sources. Photovoltaic systems on the roofs of Messe Basel and Messe Zürich produce solar electricity for some 400 single-family homes with four-person households. Hall 1 South at Messe Basel has been awarded the BS-054 Minergie Label.
Continuous optimization of ecological indicators
Just under 40 % of Expomobilia's energy consumption at its Effretikon site comes from renewable energies. Its entire electricity requirements are covered by Swiss green electricity with a FAIR POWER certificate.
A long service life, multiple use, environmentally-friendly and energy-efficient production, recyclable or biodegradable materials: great importance is also attached to sustainability in stand construction and at partner companies – as well as in the area of logistics.
Energy and emissions
Energy consumption and emissions at Messe Basel, Messe Zürich and LMS Switzerland (Expomobilia) in 2021 reflect the fact that business activity was curtailed by the pandemic but increased in the second half by comparison to the previous year. The figures are thus correspondingly lower than in the years prior to the pandemic but above those for the reference year of 2020.
Details of business activity may be found in the "Facts & Figures" section of the Annual Report.
– Online: Link
– Download pdf: Page 36
Energy consumption and emissions for Messe Basel (without administrative buildings)
Energy consumption at the Basel exhibition site went up 9 % in 2021 to 14,143 MWh (2020: 12,975 MWh). Electricity and district heating consumption rose by 6.3 % and 15.6 % respectively.
The share of renewable energy remains high at 82.2 % (2020: 83.2 %). The electricity used is 100 % renewable and more than 42 % of the district heating is renewable.
The only source of direct emissions is the oil consumption for the emergency power system. This was 2.2 tCO2-e in 2021 and thus 6.6 % below the figure for the previous year (2020: 2.3 tCO2-e). Indirect emissions (electricity, district heating), increased by 15.5 %. This is due to the increased consumption and a slightly higher emission factor for the electricity.
The district heating consumption for Messe Basel in 2020 has been adjusted retroactively (with follow-up adjustments for energy consumption, the share of renewable energy and emissions).
Energy consumption and emissions at Messe Zürich 
After the share of oil heating was replaced by district heating in 2021, the Zurich exhibition site has reduced its fossil energy sources to almost zero. Renewable energy now accounts for a share of 89.5 % (2020: 81.8 %).
With the increase in operational activities, overall energy consumption at the Zurich location rose by 18.7%. A clear increase was registered for both electricity (up 34 %) and district heating (up 25.3 %).
Despite the increase in overall energy consumption, emissions at the Zurich exhibition site were reduced by a total of 16.0 %. This is attributable to the 99.7% reduction in direct emissions, from 63.8 tCO2-e to just 0.2 tCO2-e (replacement of the oil heating). Indirect emissions increased by 26.8 % (electricity, district heating).
Energy consumption and emissions LMS Switzerland (Expomobilia)
Energy consumption at Expomobilia rose by a total of 3.5 % in 2021. Consumption of fossil energy sources went down still further, by 11.7 %, as did electricity consumption (down 1.4%). District heating consumption increased in 2021 (up 22.6 %).
The share of renewable energy was 37.7 % in 2021, which was thus slightly lower than for the previous year at 39.6 %.
Overall emissions rose slightly in 2021 (up 4.5 %). While direct emissions were cut by 11.7 % (primarily diesel: down 20.7 %), indirect emissions increased by 22.6 % due to the considerable increase in district heating consumption.
Solar energy
A photovoltaic system was installed on the roof of Hall 1 North in Basel in 1999 already, making it possible to use solar energy. Vegetation was also planted on the roof at the same time. The panels have an area of 1,900 m2 and an output of 215,000 kWh per year. A system four times this size was set up on the green roof of Hall 1 South which was completed in 2013. This photovoltaic system, which was installed in cooperation with an investor, feeds approximately 1,080,000 kWh electricity annually into the grid of the Basel energy utilities company (IWB), which took over the system in 2014.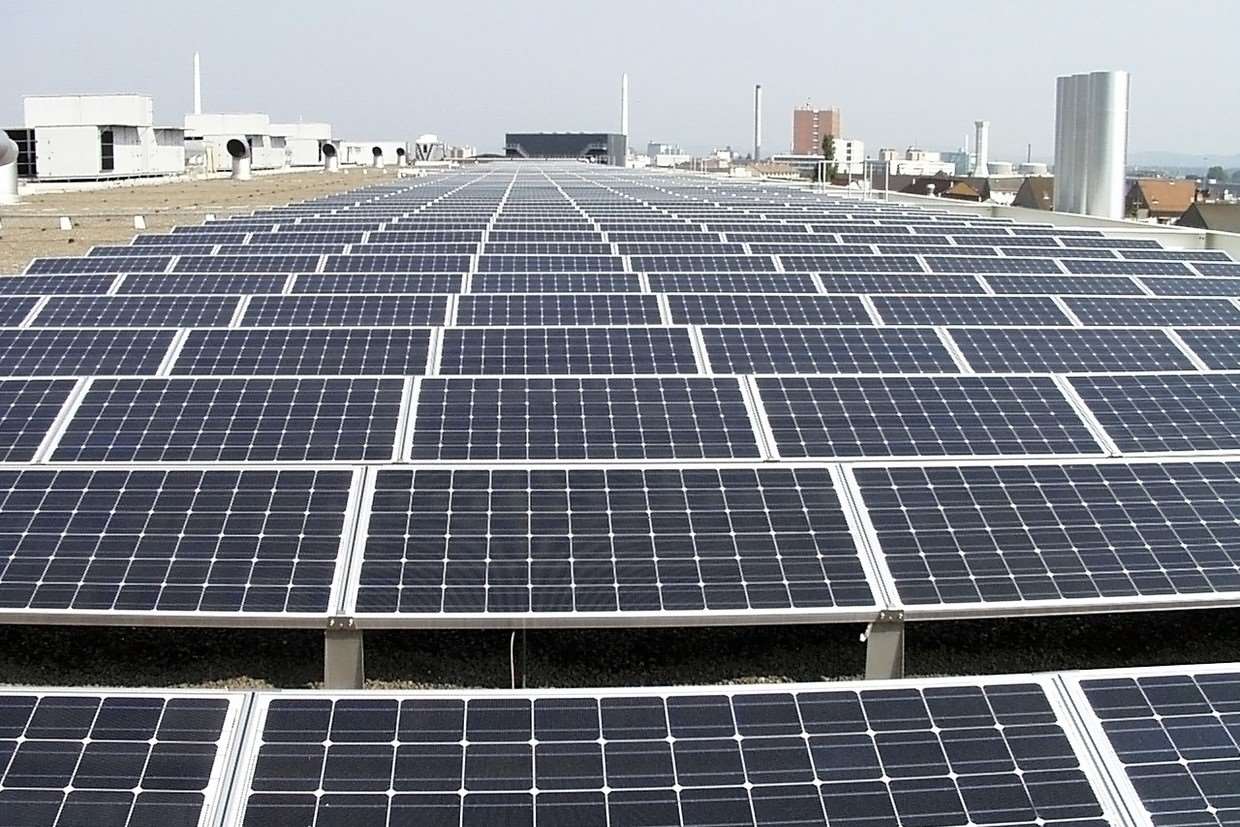 Messe Basel
MCH Group also supports the "Wettstein 21" platform, which was responsible for installing a further photovoltaic system on the roof of the Congress Center Basel. This was completed at the end of 2014 and delivers around 180,000 kWh electricity each year. The roof space was made available free of charge.
Since 2009, a photovoltaic system with a panel area of 1,200 m2 and an output of 150,000 kWh per year has been in operation on the roof of Messe Zürich.
Expomobilia operates a photovoltaic system at its Effretikon site with a surface area of 3,000 m2. This generates approximately 435,000 kWh per year.
Minergie certificate
During the construction of Hall 1 South at Messe Basel, which was completed in 2013, great importance was attached to achieving the highest possible energy efficiency, both in respect of the insulation for the building shell and with regard to the provision of the necessary heating and cooling energy in a resource-saving manner. All the heating, ventilation and refrigeration systems are operated only when required, and the majority of the waste heat generated is used.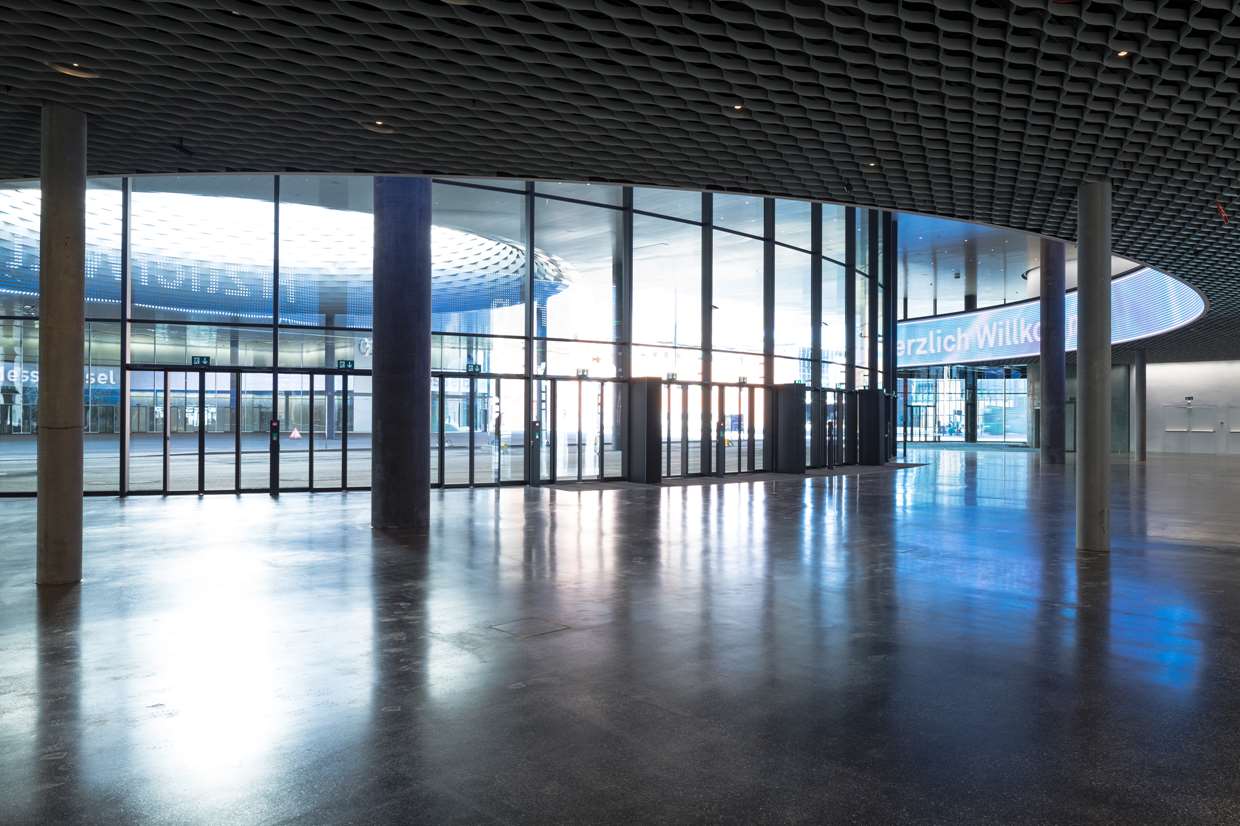 Messe Basel |Hall 1
The Basel-Stadt Minergie certification agency awarded the Hall the BS-054 Minergie Label that had been developed especially for this building. In addition, the target values of SIA Standard 380/4 are met by this, the newest exhibition hall in respect of lighting and ventilation/air-conditioning.
Construction & fittings
LMS Switzerland (Expomobilia) offers a wide range of resource-saving, reusable and biodegradable materials, including wooden partition walls from environmentally-certified local suppliers and reusable parquet flooring in locally-sourced wood. The lights are equipped primarily with state-of-the-art, long-life LED bulbs which have a low energy consumption.
A CO2 climate protection calculator for exhibition stands and interior fittings helps customers ensure that their exhibition stand is 100% climate-neutral or assists them in offsetting their emissions. This was developed specially for the purpose by Expomobilia in cooperation with myclimate, the Swiss non-profit foundation for voluntary climate protection.
One example of sustainable exhibition structures is the "EECS.green" system developed by Exhibition-Event-Congress-Services in conjunction with the ITI at the Technical University of Vienna. This is based on the use of wood instead of aluminum. Using 25 tonnes of wood instead of 8 tonnes of aluminum saves 167 tonnes of CO2. Expomobilia built an exhibition stand of this kind for the Swiss branch of Schroders, the internationally leading asset manager. Everything within the 24 square meter stand area was made exclusively of oak wood.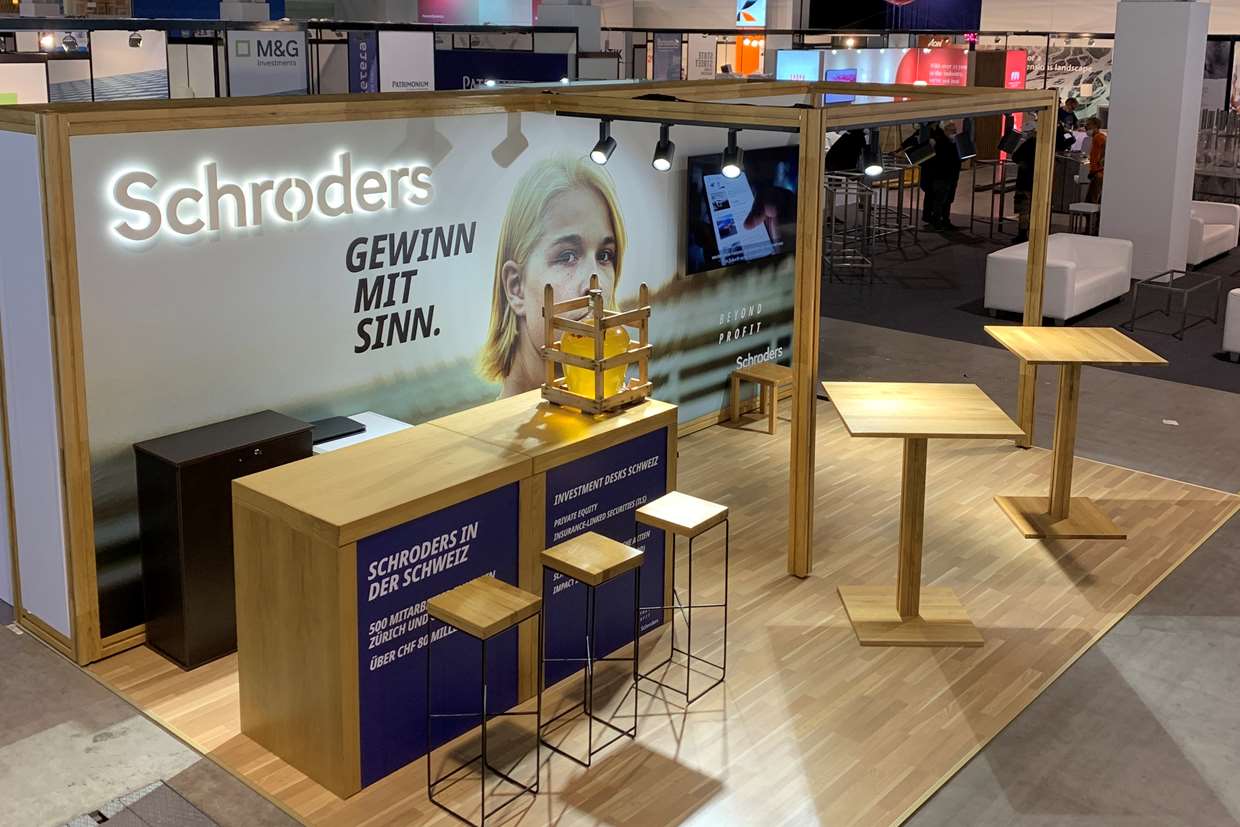 Expomobilia | Schroders
Expomobilia took charge of constructing the Netherlands pavilion at the World Expo in Dubai in the role of general contractor. The pavilion stands out both through its concept – a biotope in the desert – and on account of its sustainable construction. The materials used to build the pavilion were rented on the spot and are reusable, recyclable or biologically degradable. The project was nominated for the eminent "Big 5 Impact Awards" in the United Arab Emirates and won the "Sustainable Construction Project of the Year" award.
MC2 assumes ecological responsibility in all areas, from its selection of materials through to deployment logistics and installation.
The "Fabric" and "Thunder" EcoFlex™ systems are examples of this. The combined systems are made up of environmentally friendly and reusable materials. Their low weight and easy transportability contribute to a clear reduction in carbon emissions. They also permit savings on storage costs.
Logistics
Delivery traffic to Messe Basel is steered via a checkpoint-based system, for which a corresponding online tool has been developed. This keeps traffic searching for parking spaces and traffic congestion to a minimum. Deliveries to the exhibition halls are made underground whenever possible. To ensure that the entire logistics of journeys to and from Messe Basel can be controlled in the optimum manner, all movements within the exhibition site are performed or directed by Sempex, the Messe Basel logistics partner. Sempex has developed a quality management system to ISO 9001.
Messe Basel
Social
MCH Group subscribes to the fundamental values of a democratic state governed by the rule-of-law and a free market economy. MCH Group regards compliance with the statutory provisions and the application of serious business practices as a matter of course. It assumes its responsibility to society and all its stakeholders.
In 2018, MCH Group introduced a Code of Conduct which supports employees in adopting a legally and ethically correct and responsible form of behavior. It sets out guidelines in respect of the local setting, bribery and unfair advantages, gifts and invitations, conflicts of interest, the award of contracts, competition and anti-trust law, inside information and insider trading, data protection and behavior towards coworkers. It also describes the procedure to be adopted in the event of alleged or actual infringements.
Commitment to the fundamental values of a democratic state governed by the rule-of-law and a free market economy

An anti-corruption agreement has been part of the General Terms of Employment of MCH Group since 1992 and this is signed by all employees as part of their contract of employment. The provisions governing the admission of exhibiting companies provide protection against the risk of passive corruption. These are based on clear-cut criteria that are set out in the Exhibition Regulations.
MCH Group's brands constitute a significant enterprise value. Brand protection provides legal security and is a clear indication that the intellectual property rights of the corresponding brand belong to MCH Group and are also protected by the group. At present, some 250 word and picture brands are registered for MCH Group at the Swiss Federal Institute of Intellectual Property (IGE) in Bern.
In 2018, Art Basel launched the "Art Basel Art Market Principles and Best Practices" that set out Art Basel's expectations of its exhibitors in respect of their responsibility towards artists, suppliers of works of art, buyers and their industry. At the same time, a new procedure was defined for potentially criminal acts. With these additions to the Exhibitor Regulations, Art Basel is making a contribution towards strengthening the international art market that is based on trust and provides protection and support for the artists.